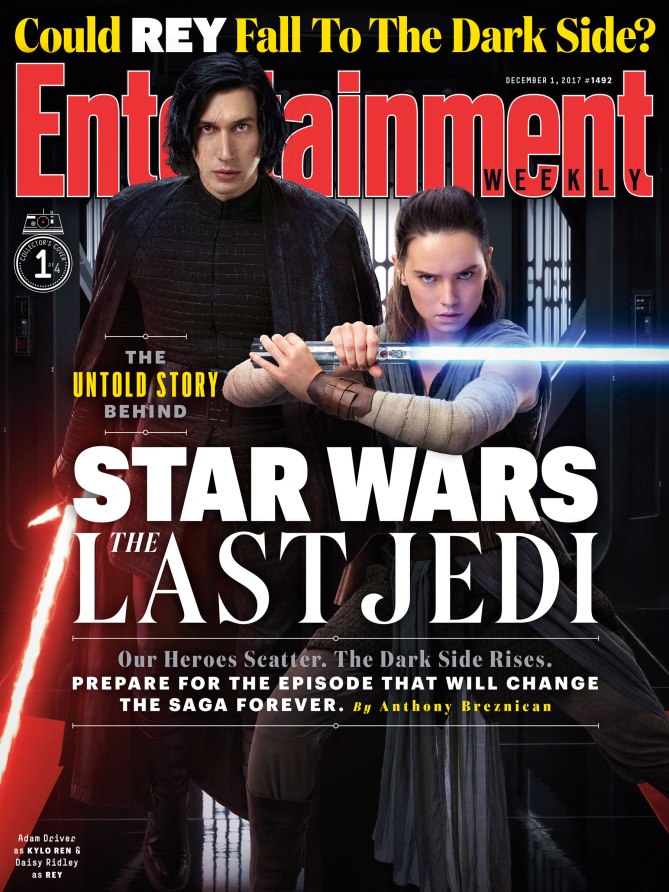 EW has released images for four new covers and several interior photos devoted to Star Wars: The Last Jedi, with each cover asking a question fans want answered. The first cover features Kylo Ren (Adam Driver) and Rey (Daisy Ridley) and asks the question, "Could Rey fall to the dark Side?"
The next cover includes Poe (Oscar Isaac) and Vice Admiral Amilyn Holdo (Laura Dern), asking the question, "Can Poe get along with his new boss?"
The third cover sees Finn (John Boyega) and Rose (Kelly Marie Tran) together with the question, "Can Finn get his mojo back?" The final cover features Luke (Mark Hamill) and Leia (Carrie Fisher), asking, "Will Luke & Leia reunite?"
Writer and director Rian Johnson spoke with EW about the history of the light and dark side in the franchise. He said that:
"There's a history in Star Wars of the attraction between the light and the dark, whether it's the story of Anakin basically turning from this sweet kid and seeing his seduction to the dark side, or even with Luke. Even though you never really believe he's going to go over to the dark side, the whole revelation of 'I am your father' has to do with Vader and this darkness that [Luke] thought he could just dismiss as 'That's the bad guy. I don't have any of him in me.' Suddenly he realizes 'No, I come from him. I have quite a bit of him inside me.'"
The film was written and directed by Rian Johnson and stars the above mentioned actors, along with
The covers feature Daisy Ridley (Rey), and Mark Hamill (Luke Skywalker), John Boyega (Finn), Carrie Fisher (General Leia), Oscar Isaac (Poe Dameron), Adam Driver (Kylo Ren),
Lupita Nyong'o, Domhnall Gleeson, Anthony Daniels, Gwendoline Christie, Andy Serkis, Benicio Del Toro, Laura Dern, and Kelly Marie. It is scheduled to be released on December 15, 2017.