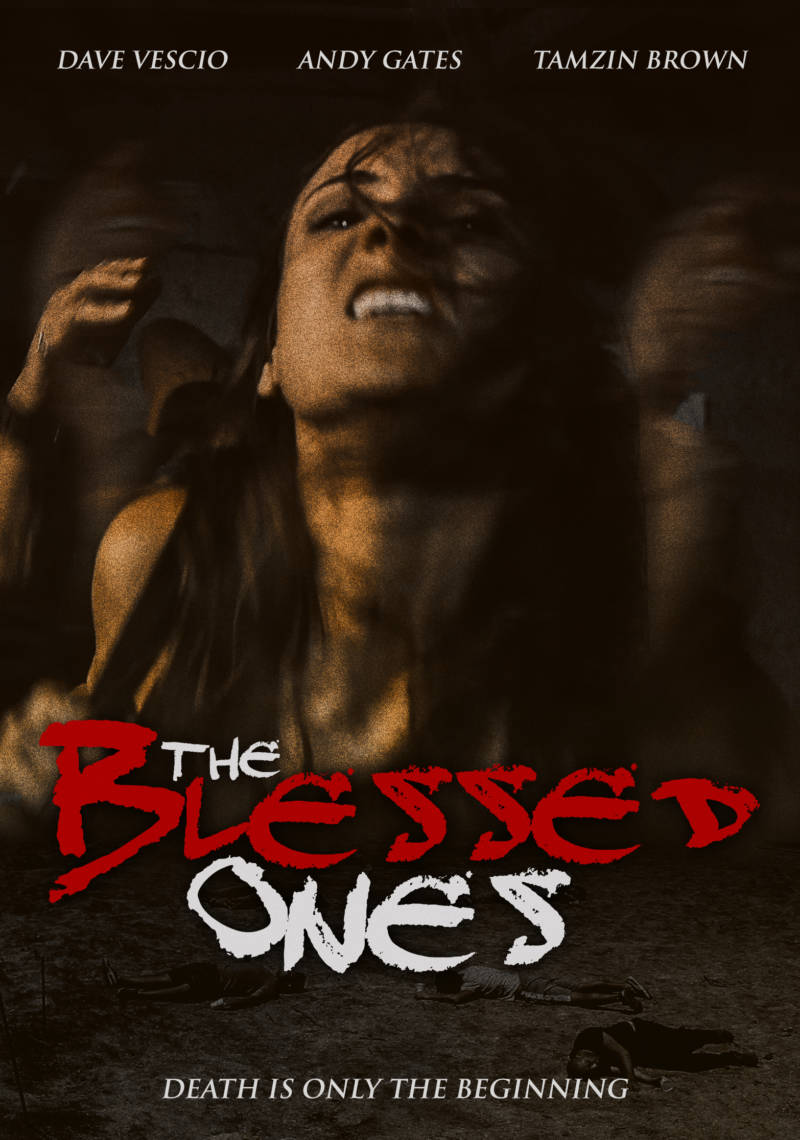 An isolated cult prepare for the prophesied apocalypse in Patrick O'Bell's frightening The Blessed Ones, now available on Amazon Prime from Wild Eye Releasing. An isolated cult hiding in a desert enclave prepare for an prophesied apocalypse, led by a charismatic Jim Jones-like leader. As the end of the world allegedly approaches, he binds them all to a suicide pact, in hopes of transcending earth for a new life in paradise. Two dissenters flee through the vast desert wasteland on the eve of the ceremony, hunted by the cult's enforcer – who will stop at nothing to insure that they keep their part of the bargain.
We had the chance to speak with director Patrick O'Bell about the film.
TMS: First off, can you provide us with a little bit of background information. Did you always want to be involved in filmmaking? What type of training or schooling did you have?
PO: I studied Photography and Acting in College at UCLA and took some film courses. My first paying gigs were as PA and eventually to a Cinematographer on several small projects.
TMS: Did you have a lot of support when you decided to get into filmmaking?
PO: I had a Industry friend who was my mentor and showed me the ropes and helped me develop my craft.
TMS: What's up with The Blessed Ones? Where can people see it? And what do you want them to know about the movie?
PO: It's on Amazon Prime and most of the PPV outlets. You can purchase the DVD at most chains like Wallmart or Best Buy.
TMS: What was the inspiration behind this story? Did you do much research on cults?
PO: I was inspired by a documentary I saw on the Heaven's Gate cult, and then I researched other cults like Waco.
TMS
: Do you have a favorite apocalypse/post-apocalyptic movie?
PO: Road Warrior and then A Boy And His Dog.
TMS: How long of a shoot was it?
PO: It took around 2 years to shoot.
TMS: How were the main actors selected?
PO: Actually that was mostly through my producing partner, Andy Gates. He has several contacts.
TMS: In terms of directing choices, anyone that you try to emulate? Or ones that have influenced you?
PO: Well for this particular film, I would say David Lynch and Alejandro Jodorowosky. I also admire Ben Wheatley and several of the classic filmmakers of the 1970's like Billy Friedkin, Coppola, Scorcese, ect...
TMS: Low budget film productions have been historically known for being difficult and demanding. How was this production on the cast and crew? Any challenges or funny stories?
PO: Well while filming at the compound, there was this giant Tortoise that kept knocking over the film equipment. It would just show up as we filmed a scene. The owner also had a large hog and other exotic critters and would rent out a small part of the compound to do some fetish photography while we filming. It was weird.
TMS: If you had a choice to remake a genre movie, what movie would you like to remake?
PO: I wouldn't mind doing a gothic Edgar Allan Poe horror film remake of Murders in the Rue Morgue or Masque of the Red Death.
TMS: Can you tell us anything about the other projects that you are working on or planning on working on? Or, anything else that you would like to plug?
PO: I'm currently working on Departer. It's a slasher Horror film that I'm very excited about.