[Updated] The reviews (read ours here) have been pouring in for Solo: A Star Wars Story, with most of them praising Donald Glover's excellent performance as Lando Calrissian. That praise resulted in a quote published by the French press from Kathleen Kennedy saying that a Lando film was "next." That quote has since been updated, stating that the quote was translated wrong and that it was a misunderstanding. The studio has confirmed that a Lando spinoff isn't in the works at this time. The quote should have been translated to say:
"[Kennedy] said it's something she'd like to do one day in the future."
[Original story] We haven't even gotten to the release of Solo: A Star Wars Story, but it looks like Lucasfilm what the next standalone movie will be, and it looks to be about the fan-favorite smuggler, Lando Calrissian. Many of the reviews that are coming out about the film praise Donald Glover's performance as Lando, and Lucasfilm is enamored by it as well. Speaking with Premiere France, Lucasfilm President Kathleen Kennedy confirmed that Lando will be getting his own Star Wars Story, saying that:
"We think that the next spin-off will be dedicated to Lando Calrissian," Kennedy said. "Of course, there are still many stories to tell about Han and Chewbacca but Lando will be next."
Disney has been alternating each year between the standalone movies and the ones that deal with the Original trilogy. With Star Wars: Episode IX coming out in theaters in 2019, it appears that the next available spot is in 2020. There is no word at this time about what exactly "next" means, whether it's 2020 or some other date. Or, if "next" means the next film to go into production.
Solo: A Star Wars Story comes out May 25th.
Ron Howard took over the project in June after the original directors Phil Lord and Christopher Miller were fired. It features Alden Ehrenreich (
Hail, Caesar!
) as Han Solo, Donald Glover (
Atlanta
) as Lando Calrissian, Woody Harrelson (
War for the Planet of the Apes
) as Tobias Beckett, Joonas Suotamo as Chewbacca, Phoebe Waller-Bridge (
Fleabag
) as L3-37, Emilia Clarke (
Game of Thrones
) as Qi'Ra, Thandie Newton (
Westworld
) as Val, Ian Kenny (
Sing Stree
t) as Rebolt, Harley Durst (
Wonder Woman
) as Moloch, Jon Favreau (
Spider-Man: Homecoming
) as Rio Durant, Tien Hoang (
Now You See Me 2
) as Moloch's henchman, Paul Bettany (
Avengers: Infinity War
) and Warwick Davis (
Star Wars: Episode VI – Return of the Jedi
). Check out the synopsis and character descriptions below.
"A new adventure with the most beloved scoundrel in the galaxy. Through a series of daring escapades deep within a dark and dangerous criminal underworld, Han Solo meets his mighty future copilot Chewbacca and encounters the notorious gambler Lando Calrissian, in a journey that will set the course of one of the Star Wars saga's most unlikely heroes."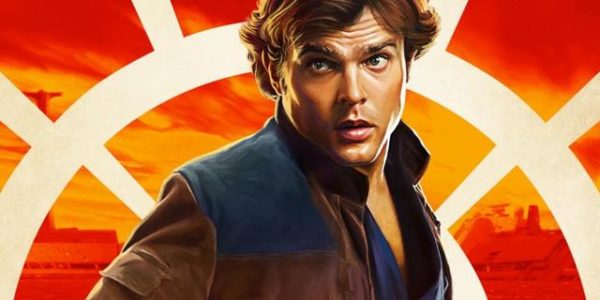 For young Han Solo, times are tough under Imperial rule. He makes his way as a reckless street thief, working for a notorious gang on Corellia, which is headed up by an ill-tempered crime boss. After an arduous stint as an Imperial mudtrooper, Han calls it quits and finds that he is very comfortable reinventing himself and travelling in the company of scoundrels around the galaxy.
The mighty Wookiee is nearly two centuries old, but he has fallen on hard times during the age of the expanding Empire. When fate has Han and Chewbacca cross paths, Chewbacca embarks on a long, loyal and trusting friendship that he could have never expected.



Smooth, sophisticated Captain Lando Calrissian stands ready to retire from his life of a smuggler and become a full-time gambler. His calling is now to shuffle from one high-stakes card game to another across the galaxy as opportunities arise.



Qi'ra is deeply enmeshed in a life of crime as a member of a street gang on Corellia. Streetsmart, calculating and ambitious, she puts her early life as a powerless street urchin behind her and uses all her wits to move up in status within a prominent criminal organization.



There is no question that Beckett is a survivor. Seasoned, taciturn, and all-business, Beckett quietly works out all the angles to come out ahead. He's put together a team of specialized thieves to carry out risky but profitable heists, which he carefully plans and executes.



Val is a trusted member of Beckett's crew. Cool, bad-ass, and self-assured, Val is a no-nonsense woman who can be prickly at times, to say the least. She is a crack shot with a blaster rifle but may just be the most level-headed and capable member of Beckett's ragtag crew of scoundrels.



L3-37 is Lando's co-pilot and a self-made droid assembled from astromech and protocol parts. Despite her make-up, L3-37 is an enlightened navigator who cares deeply about droid rights.



Dryden Vos heads up an emerging criminal syndicate. Under Vos' leadership, the organization quickly gains a reputation for ruthlessness. But as ruthless as Vos is, he is not a crude cutthroat, preferring instead to surround himself with luxury.