Photo Courtesy of Dark Horse Comics
As gamers the world over eagerly await the release of CD Projekt Red's highly anticipated video game Cyberpunk 2077 (releasing this November), Dark Horse comics is revealing a sneak peek into the world with Trauma Team #1 (written by Cullen Bunn, art by Miguel Valderrama). Cyberpunk 2077, as you might have guessed from the title, takes place in a futuristic city full of neon colors, corporate advertisements, and, of course, people with cybernetic implants. The four-issue Trauma Team series will serve to provide a glimpse into the world that players will be able to fully explore later this year.
Trauma Team follows Nadia, an EMT for Trauma Team International. EMTs in the world of Cyberpunk are slightly different from the EMTs we know. They are part of privately-owned businesses hired out to perform extraction and protection. It is an interesting, albeit slightly terrifying concept. The first half of Trauma Team #1 centers on a botched mission Nadia was on, while the second half finds her going back into the field after a mandatory break to make sure she's mentally ready to return to work. Both missions are violent affairs, featuring shootouts, cybernetically enhanced ninjas, and playful banter between the EMTs aplenty.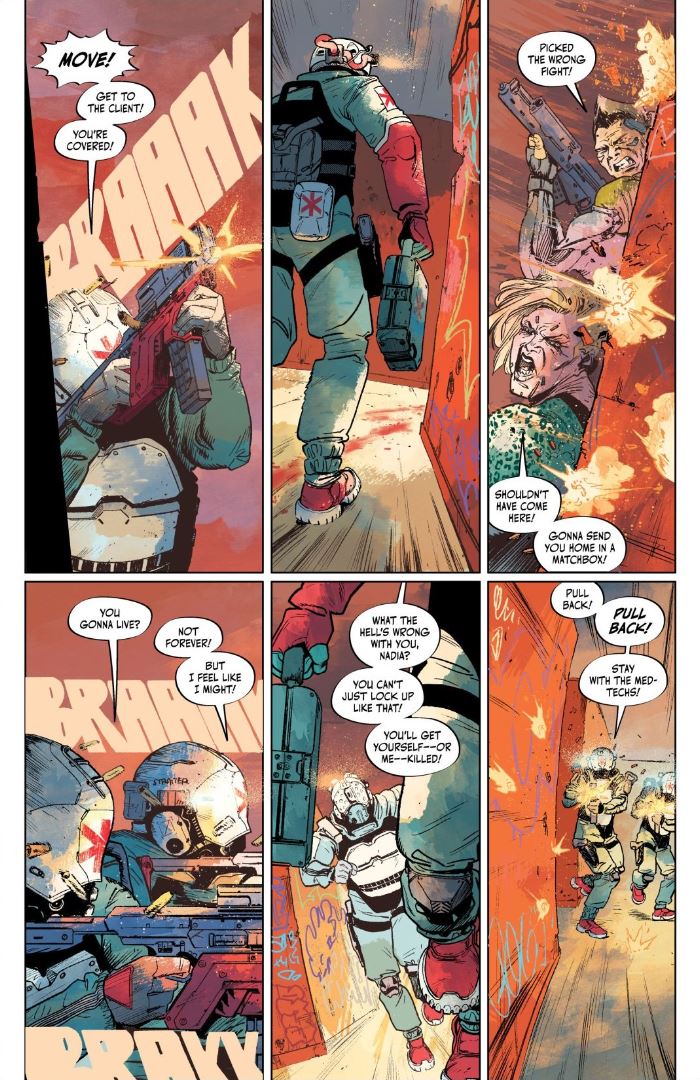 Photo Courtesy of Dark Horse Comics
This story couldn't be told without the visuals to back it up. Colors splash around every panel, whether it's the red blood, orange and yellow muzzle flashes, flashy neon signs, or graffiti plastered around the environments, Trauma Team is a visual treat. While the masked EMTs do lack a bit of personality, the first issue does end on good enough of a cliffhanger to entice readers to come back for the next installment.
Whether you're a gamer that can't wait for Cyberpunk 2077 to release or just a fan of colorful, action-packed and futuristic sci-fi, Trauma Team will have something for you. Cullen Bunn has delivered tight, interesting, and quality single-arc stories before, and Trauma Team looks to be no different.
- Neil Hazel